Orange County Alcohol Detox Program
Alcohol detoxification is the process of systematically withdrawing from alcohol in a safe way, intended to support your long-term physical and mental health and providing for a sustained recovery. While some may choose to attempt alcohol detox on their own, this can be dangerous, and seeking professional help for detoxing from alcohol is a safer choice.
Beginnings Treatment Center offers a fully personalized alcohol addiction treatment program including detox, carefully tailored to meet the individual physical and mental needs of each client under our care.
Alcohol addiction treatment at Beginnings starts under the care of our experienced detox team, led by Lawrence Tucker, M.D.
The National Council on Alcohol and Drug Dependence estimates that 17.6 million people in the United States are addicted to alcohol. If you or a loved one is suffering, know that you are not alone, and detox can help you to get sober and build the foundations of physical and mental health that will enable you to step into recovery.
Our effective alcohol detox center provides every amenity and comfort to ease the withdrawal process so you or your loved one can remain as comfortable as possible while you begin the process of recovery.
If you have questions, please contact Beginnings today for a confidential and comprehensive consultation.
A severe Alcohol Use Disorder (AUD) is described as qualifying for 6 or more DSM-5 criteria for AUD diagnosis. This also means that the individual has a chemical dependency on alcohol. While chemical dependency is just one of the factors of addiction, it's one that can be difficult, painful, traumatic, and even dangerous to move past. Dependency happens over time, as the body develops a tolerance to ethanol, forcing you to drink more and more to maintain the same level of intoxication. Because intoxication is often sought after to destress, feel better, or just to feel good. When someone who is chemically dependent on alcohol quits, the body is forced into withdrawal as the central nervous system rapidly adapts to the change in chemicals inside the blood and body.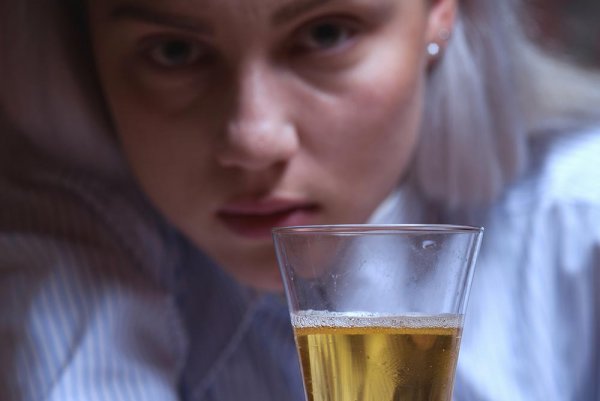 For alcoholics, this process typically lasts 5-14 days, with risks of dehydration, panic and anxiety attacks, seizures, delirium tremens, hallucinations, irregular and fast heart rate, and other dangerous symptoms. At the Beginnings Detox facility in Orange County, California, we work to alleviate these symptoms to reduce the danger and trauma of withdrawal, managing the process to facilitate a safer and faster progression towards recovery. While we do treat the immediate physical symptoms of withdrawal, our team also offers full mental and emotional support to ensure the long-term health of the client.
The Residential Detox Program at Beginnings
Beginnings offers a residential detox program for alcohol addiction at our modern and comfortable Orange County facility in Southern California. Our experienced team offers 24/7 care to help you reduce withdrawal symptoms, manage your withdrawal progression, and to ensure that you recover as quickly and safely as possible.
Alcohol Withdrawal Timeline
Your withdrawal progression while recovering from alcohol addiction will depend on several factors including the duration of abuse, volume of abuse, and your own body and metabolism. Many people will experience a slightly different process, with a different severity and progression of symptoms based on their own health and relationship with alcohol.
However, most people will follow the same general alcohol detox timeline, within similar time periods.
We will walk you through every step of methamphetamine detox:
Importantly, symptoms will last much longer without treatment. Some patients experience weeks of strong withdrawal symptoms on their own, which can be exacerbated by poor mental health, dehydration from diarrhea and vomiting, and significantly higher risks of relapse.
Delirium Tremens – Delirium Tremens is an alcohol withdrawal syndrome affecting 3-5% of all persons detoxing from alcohol. Without proper treatment, it can be fatal. In most cases, Delirium Tremens develops within the first 3-5 days of withdrawal and is characterized by strong confusion, hallucinations, and seizures.
Alcohol detox is the process of controlling withdrawal symptoms and progression to reduce mental and psychological risks. Without appropriate professional care during detox from alcohol, you may experience:
Insomnia
Anxiety and Panic Attacks
Stomach pain
Headaches
Heart palpitations
Hallucinations
Tremors
Muscle pain
Psychosis
Seizures
Delirium tremens
In addition, detoxing from alcohol on your own puts you at a higher risk of relapse, with the added risk that withdrawal symptoms will be more severe the second time you detox. While most alcohol withdrawal symptoms are not dangerous, many can be, with patients experiencing potentially fatal side-effects from heart problems, diarrhea and vomiting, delirium tremens, and psychosis or anxiety-induced behavior which puts them in harm's way. In addition to treating the physical symptoms, the alcohol detox program at Beginnings Treatment Centers offers mental and emotional support to reduce the traumatic emotional and psychological side-effects of alcohol withdrawal.
If you have questions, please contact Beginnings today for a confidential and comprehensive consultation.
What Can I Expect from Alcohol Detox?
The alcohol detox program at Beginnings Treatment Center is handled by an experienced and professional team offering 24/7 care and monitoring. However, alcohol detox will vary significantly depending on you and your health. At Beginnings, every treatment program is carefully tailored to the patient based on your unique intake evaluation, where we take your alcohol abuse history, age, gender, social condition, history of psychological issues, and other factors into consideration. This enables us to offer the specific physical, mental, and emotional care each of our patients needs to fully recover and move into alcohol addiction treatment.
While every detox treatment at Beginnings is personalized and tailored to individual patient needs, the process normally follows the following stages:
Our comprehensive program for alcohol detox begins with intake, which includes an interview and thorough evaluation to review each patient's medical, psychological, and alcohol abuse history. This gives us the foundation for determining the best path to recovery, so that we can choose treatment, symptom management, and support services to meet individual client needs.
Alcohol detox at Beginnings takes place at our residential detox facility in Orange County, California. With 24/7 care from our specialists including licensed therapists, support to ease seizures and symptoms, and emotional support from our staff, we offer everything to safely guide recovering patients through the detox process. Beginnings Treatment Center offers a fully customized residential detox program to each patient under our care, because we know that everyone has unique needs.
Alcohol use disorder often stems from a variety of complex issues ranging from social support to mental and emotional issues. Patients going into recovery often experience a resurgence of emotional problems, many suffer from coocurring disorders or dual diagnoses, and anxiety and paranoia often become strong and problematic during the detox process. Our experienced team is available to work each patient through issues as they arise so that everyone in our care can recover fully.
Recovering from an alcohol addiction is traumatic and it will bring painful emotions to the surface. While our team is available to offer clinical services including medication and psychological care, we're also available to offer the emotional support you need to withdraw safely and comfortably.
Does Insurance Cover Alcohol Detox?
Most insurance plans will cover part or all of your residential alcohol detox treatment, as well as your long-term alcohol addiction treatment. Beginnings Treatment Center works with a wide variety of insurance companies to help ensure you can receive the care you need without concern. However, coverage varies by provider. Please call your provider or fill out our form to determine if your insurance covers alcohol addiction treatment at Beginnings.
Detoxing at Beginnings Treatment Center
We believe that every person is unique and therefore has unique physical and psychological needs during the withdrawal process. That's why we work to offer a fully custom detox program for each patient under our care, beginning with a thorough evaluation to identify and evaluate your physical and mental health from multiple diagnostic perspectives. Every element of our detox process is based on extensive research, with evidence-based support and a holistic addiction treatment approach. Every patient has access to our experienced team including licensed therapists, nurses, and a board-certified specialist in addiction medicine to ensure that everyone has the best possible support for recovery.
We work to facilitate a faster recovery by using available anti-seizure medication and benzodiazepines to control the alcohol withdrawal process. We offer counseling and emotional support to alleviate symptoms including anxiety and depression. And with program adjustments and medical oversight to keep you on track and in good health, Beginnings Treatment Center is everything you need to start your recovery off on the right track.
Our beautiful detox facility is located in sunny Orange County, California, complete with an experienced and compassionate team. If you're ready to start your recovery journey, the Beginnings team is here to support you with everything you need.
Contact us today for a free and comprehensive consultation, we are here to help.