Professionals, students and others with busy day schedules can fit recovery into their lives with our Evening Intensive Outpatient Program (IOP).
Evening Intensive Outpatient Program Treatment
Why Choose Beginnings Treatment Centers Evening Intensive Outpatient Program?
It's obvious to anyone that there are a huge number of intensive outpatient program (IOP) and treatment centers to choose from. Making the right decision with all of these choices to find the best option for you or a loved one can be a stressful and mind-boggling task. At Beginnings Treatment Centers, our evening intensive outpatient program shares many similarities with our highly regarded residential treatment programs, but features a differently structured environment.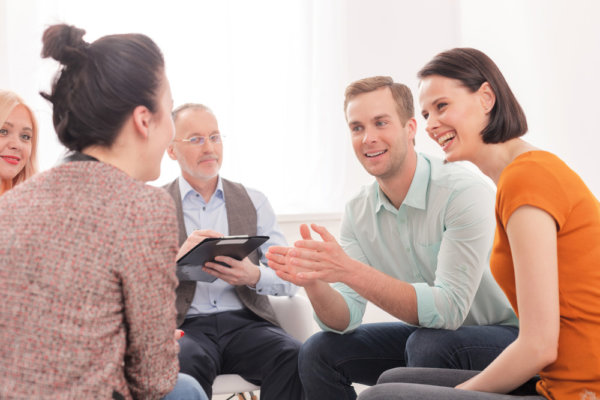 What Type of Care Is Needed?
Outpatient and residential drug and alcohol treatment programs are both highly effective and have tremendous benefits. However, they are intended for different situations, and figuring out which one will best help you or your loved one achieve long-term recovery is one of the first steps towards a clean and sober life. A comprehensive diagnostic assessment with a qualified admissions professional is necessary to understand which type of program is most appropriate for you or a loved one.
The right program depends on your diagnosis, previous treatment experience, the time you have to dedicate to your recovery, and a number other factors.
In evening intensive outpatient clients aren't completely shielded from negatively influencing factors that may trigger the urge to use, because for most of the day they are in an uncontrolled environment out in the real world. But for some clients this is an appropriate choice. Entering evening intensive outpatient addiction treatment can be a flexible way of getting the help a client needs while still going to work or school. The programs are available for both men and women, and our evening intensive outpatient treatment program allows you or your loved one to maintain daily life commitments while getting the treatment that is needed.
What Are The Benefits Of Evening IOP Treatment?
Our Evening IOP is ideal for those who want or need to keep up their daily routine as much as possible. This may be because they have a day job they can't leave, attend classes, or have some other obligation that would keep them from enrolling in an inpatient program. For some clients the intense structured environment of a highly protective residential program isn't necessary for the individual to get clean and sober and establish a solid basis for ongoing recovery. If you think the Beginnings Evening Intensive Outpatient Addiction Treatment Program is right for you or your loved one, here's a list of just a few of the benefits of evening IOP rehab:
While the intense care of a residential treatment facility can provide a solid basis for recovery, it's very nature requires that you put your life on hold. Our evening intensive outpatient program allows you the flexibility of being able to maintain your work, school, or family obligations while working hard on your recovery as well.
Support from loved ones is essential to a successful and long-term recovery. When enrolled in the evening intensive outpatient program, clients can more easily stay connected to their family members and friends.
Evening intensive outpatient treatment is less expensive than full residential treatment, while still providing a structured and effective program for recovery from drug or alcohol addiction.
If you're thinking about enrolling in Beginnings Treatment Centers' Outpatient Program, our treatment options include:
Monday | 6:00-9:00 pm
Tuesday | 6:00-9:00 pm
Wednesday | 6:00-9:00 pm
Thursday | 6:00-9:00 pm
Friday | 6:00-9:00 pm