Why is fentanyl so dangerous?
What is fentanyl?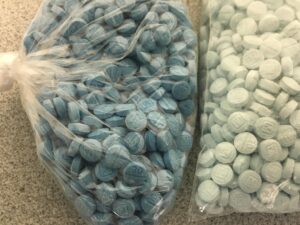 It's 2022 and the drug "fentanyl" seems to be the most dangerous flooding the Nation. Fentanyl is a synthetic opioid that is traditionally used to treat pain, especially in cancer patients and oftentimes helps within surgery. However, fentanyl is also being illicitly manufactured. Fentanyl is primarily manufactured in Mexico, it is then smuggled over and distributed all over the United States. It can also be found being sold on the illegal drug market. Fentanyl is an opioid just like Heroin and Morphine but is 50-100 times stronger. Fentanyl works by binding to the body's opioid receptors, which are found in areas of the brain that control pain and emotions. When one consumes this drug, they may experience feelings of euphoria, relation, pain relief, sedation. Fentanyl floods dopamine to the user's brain which gives users the "happy" feelings. Dopamine is a neurotransmitter that conveys signals between neurons. Not only does it control mental and emotional responses but also motor reactions. Dopamine is particularly known as being the "happy hormone," which is responsible for our experiencing happiness; which in turn is why fentanyl is so dangerous and can become very addictive.
What Does Fentanyl Look Like?
You can find fentanyl in many different forms, liquid or powder, a patch and in pill form. Drug dealers are now making counterfeit pills that are made to look like oxycodone but are actually fentanyl, which can cause many people to accidentally overdose. Fentanyl is now being added to other drugs such as cocaine, methamphetamine, benzodiazepines, MDMA causing thousands of accidental overdoses all over the world. A person is not able to tell if a drug has been laced with Fentanyl unless they tested it with a testing kit before using. This makes the drugs more potent which in turn makes it more dangerous and addictive for users causing them to come back for more and is much cheaper for drug dealers, in return producing more profit.
The Dangers of Fentanyl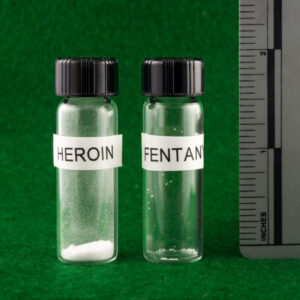 According to the CDC, synthetic opioids (like fentanyl) are the primary force of over deaths in the United States. In comparison between January 31st, 2020 and January 31st 2021 during this period overdose deaths involving opioids rose 38.1%. Also, overdose deaths involving fentanyl rose 55.6% in just that year. Nearly 841,000 people have died since 1999 from a drug overdose. Over 70% of drug overdose deaths in 2019 involved an opioid. Nearly 841,000 people have died since 1999 from a drug overdose. Over 70% of drug overdose deaths in 2019 involved an opioid. 42% of counterfeit pills tested for fentanyl contained at least 2mg of fentanyl, considered a potentially lethal dose. Drug trafficking organizations typically distribute fentanyl by the kilogram. One kilogram of fentanyl has the potential to kill 500,000 people.
Do You Think a Loved One Might Be Using Fentanyl? Here's What To Watch For.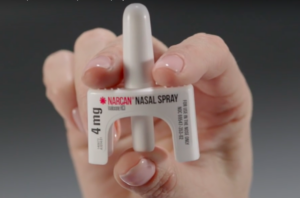 If you believe a loved one might be experiencing a fentanyl or  opioid addiction there are some signs you can look for. First, physical symptoms include: sleeping at odd hours, rapid weight loss, lack of hygiene, eating changes, drowsiness and small pupils. The behavioral signs of addiction you should look for: avoiding contact with friends and family, changes in friends or hobbies, increased isolation, moodiness, irritability, nervousness, mood swings (being overly happy or very sad), stealing, missing appointments or events. If you think you or someone else is experiencing withdrawal symptoms (this happens once the user stops using this drug) here are some of the symptoms you might notice: restless legs, sleep problems, diarrhea, vomiting, cold flashes with goosebumps, muscle and bone pain, severe cravings, abdominal pain, irritability, changes in appetite, fatigue, changes in mood, sweating, runny nose, nausea and tremors. 
If you believe someone is overdosing you will notice some tell-tale signs. Most likely if a person is experiencing an overdose of fentanyl or any opioid for that matter, they could be unresponsive or unconscious, pupils will be pin-pointed, slowed heart rate, stopped breathing, blue lips/skin, pale or clammy skin, vomiting or gurgling sounds. If you believe someone is experiencing an overdose here are the steps to take: 
Call 911 

Administer Narcan (if available) 

Try to keep the person awake & breathing. 

Lay the person on their side to prevent choking 

Stay with person until emergency assistance arrives 
Narcan is an affordable, fast-acting medicine for opioid overdose. It works on any type of opioid. It does not work on other drug overdoses such as cocaine, methamphetamine or benzodiazepines. Narcan is an opioid agonist which means it blocks the opioid receptors in the brain and reverses the symptoms of an opioid overdose. When Narcan is used on someone who is overdosing, the medicine should wake the person up within 2-3 minutes from receiving the dose. You can purchase Narcan (nasal spray) at your local pharmacy or drugstore. The law allows everyone to purchase Narcan without the need for a prescription. With the Opioid epidemic in full force it is good to have some with you just in case of an overdose. If you use Narcan on an individual who is not experiencing an overdose they will not have any side effects from the medicine. When narcan is being used for an overdose the person may wake up feeling the side effects of Narcan which can be: Nausea, vomiting, stomach pain, diarrhea, fever, sweating, body and joint aches, rapid heart rate, anxiety, restlessness, tremors or shivering. After a person is administered Narcan they should go straight to the hospital because the effect of Narcan only lasts 45-90 minutes before it wears off. Narcan has saved so many lives. There are plenty of resources out there that can teach you to use Narcan correctly.
How To Get Clean From Fentanyl.
There are so many resources out there that can help treat someone addicted to opioids. There are Drug and Alcohol Rehabilitation Centers that will medically detox someone who is coming off drugs. The first step would be to detox and get rid of the drug from the body's system. Medically assisted detox is an effective method of slowly weaning the body off fentanyl through the use of non-addictive medications that are used temporarily which ease the withdrawal symptoms 
Levels of Fentanyl addiction treatment options After detox:
Residential Inpatient Treatment
Residential inpatient addiction treatment provides a safe and comfortable atmosphere to recover from addiction. Hospital settings where the person seeking treatment feels like they are a prisoner are a thing of the past.
Intensive Outpatient Treatment
Intensive Outpatient Treatment for substance abuse, also known as IOP, is the most flexible treatment option with the least restrictions. Beginnings features an intensive outpatient treatment program specifically designed for individuals struggling with addiction and dual diagnosis issues.
Partial Hospitalization Program (PHP)
Partial Hospitalization Program PHP is a medical term. It's not what it sounds like. PHP patients typically spend 5-6 hours per day participating in psychotherapy groups, recreational therapy and educational groups in a comfortable setting, not a hospital Building where surgeries are performed.
After Care
Completing drug or alcohol rehab is a major accomplishment, but there's still more work to do. During the weeks, months and even years after completing rehab, individuals in recovery are still at risk for relapse. The Beginnings Treatment Centers Aftercare Programs help to greatly minimize that risk, and keep our clients on the path of a clean and sober life.
Sober Living
Sober living houses otherwise known as sober homes are comfortable residential homes that provide safe housing and supportive, structured living conditions and rules specifically for people exiting drug rehabilitation programs and back into the workforce or regular life.
If you have any questions about these levels of care for Fentanyl addiction or any other form of substance abuse, contact us now to discuss your options.
We accept a wide variety of different insurance plans.
How to Find the Best Fentanyl Detox Center
We want you to know that no matter where you are located, you can find a quality Fentanyl detox center and treatment help. There are some key factors you should pay attention to, to find the best detox center for yourself or loved one. First, look at their staff and the credentials that they have to make sure they have experienced staff members in addiction treatment who can actually help you recover. You can also look at reviews for centers online on Google Business and Yelp. You will also want to make sure that the detox or treatment center can accept your medical insurance.
At Beginnings Treatment Centers, we accept most private and employer policy medical insurances as well as policies under your parents. If you would like to verify if your insurance covers Fentanyl detox and treatment, you can fill out this form. We are confident that we can help you and/or your loved ones fully recover from Fentanyl addiction and would love to have you as a part of our growing alumni community. We are so confident that we offer a 90-day treatment pledge for you. Call us today to get admitted into a world-class Fentanyl detox and treatment center today, no matter where in the country you are.
Other Addiction Treatment Information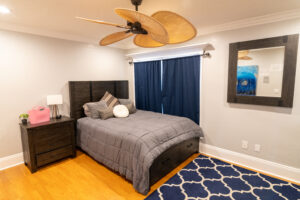 If you're unsure of which type of treatment you need, one of our staff will help you to select an option that meets your needs. Call us now!
Beginnings Treatment aims to offer a broad range of care to suit the needs of every one of our patients
We accept a wide variety of different insurance plans.
Finding Help for Fentanyl Dependence
If you or a loved one is ready to take the steps to get treatment for Fentanyl dependence, the team at Beginnings Treatment is here to help.
We offer qualified evidence-based care designed to help each of our patients make the most of time spent in recovery so they can move on and back into a healthy and happy life. Like our name says, we aim to offer new beginnings for every patient.
Insurance – You are entitled to insurance coverage for addiction treatment under the Affordable Care Act. However, your provider may work with specific treatment centers, may only cover a certain number of days in treatment, or a certain percentage of treatment. If you're unsure if your insurance provider covers care at our facility, contact us and we can help you find out.
Payment Help – We work with My Treatment Lender to ensure each of our patients can afford the care they need. Beginnings Treatment does not recommend that you take any financial action without consulting a financial advisor.
Time off Work – You are entitled to up to 12 weeks of unpaid medical leave from work under the Family and Medical Leave Act. You are also entitled to seek out rehabilitation for a substance use disorder under the ACA. It is up to you how much you wish to disclose to your employer when seeking this time off.
Addiction treatment for Fentanyl Dependence is the first and most crucial step on your way to recovery
Our focus on individual care, science-based treatment, and follow-up is designed to ensure the best possible outcomes for every patient.
Recovering from Fentanyl addiction is a long battle that will require years of effort, care, and treatment. You will need consistent mental, psychological, and emotional support to win. We are here to help you on your way, with strong foundations designed to ensure you have the tools to live your best sober life.
[gravityform id="13″ title="true" description="true"